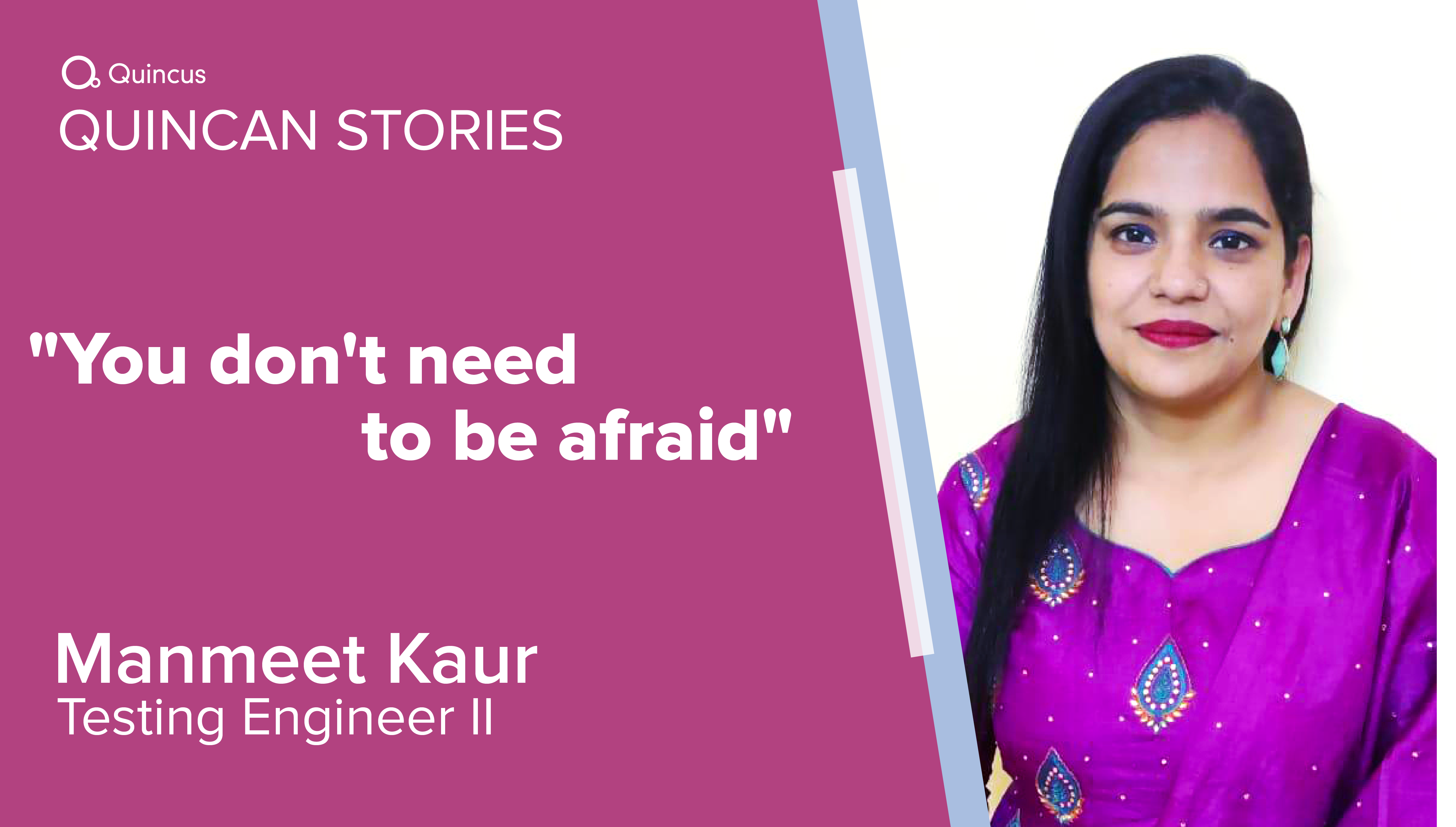 Manmeet Kaur: Supportive network helps with career advancement
Our Testing Engineer shares her experience as a female engineer in India and her advice on returning to work after a career break.
You are a Senior Software Testing Engineer. Could you explain to us briefly how you run software testings?
We have sprint meetings to plan what we do for the following week. Our product managers tell us about the work we have to achieve for the week or in the coming sprints, so we start gathering information into a document and create scenarios to test the required area—we call them test cases.
When part of the software development is completed, we execute the test cases. If we find any bugs, we log them into our system.
What did you do before joining Quincus?
Before Quincus, I took a break for one and a half years. At that time, my mother was not well, so I took some time off work to take care of her.
I was looking to go back to work. That was when Shipra (Quincus recruiter in India) called me for an interview.
According to a report by The Society of Women Engineers, India has a higher percentage of women in tech than in other countries. But the unemployment rate amongst women engineers in India is 5 times that of men.
What do you think of this as a female engineer in India?
Actually, it is more of marital circumstances. In India, the family is one of the main priorities.
Women have to take up more familial responsibilities. For us, it can be challenging to manage both family and work. That is why I think the unemployment rate for women is higher than men in India.
What is your experience?
I am fortunate to have a family that strongly supports me in my work and career—both my parents as well as my in-laws. They always motivate me to focus on my job and to progress in my career.
I always have a supportive working environment here in Quincus. I also learned a lot about handling challenging requests and difficult people—by staying calm and being patient!
Like other women in India, I face gender discrimination in some aspects of my life. But with my family support, motivation, and a supportive environment, I am able to progress in my career.
What about your positive experiences?
I think that I am quite lucky to have people that are so positive and are very helpful.
In my current team, my colleagues are very helpful. Not only as colleagues, but they are very kind people.
What would you say to other women who want to become engineers in India?
I think they don't need to be scared. In every situation you are facing, don't be afraid. As long as you have confidence, you can easily achieve your goals in your career.
Also, always be positive—it will help to build confidence in yourself! That's my advice to everyone.
What about women who took a career break and are looking to join the workforce? Do you have any advice for them?
Always try to improve your skills. That's very important.
Whenever you are on a break, try to improve your skills. Just give one or two hours a day, or every alternate day, to self-study.
Doing this will be helpful for you when you go back to the industry and attend an interview. You will still be in trend and aware of the new technologies and skills you've learnt over your career break.
Anything else you wish to add?
In any new industry, it isn't easy at the beginning. Always take advice from your seniors since they're more experienced and care for you—and always be positive, confident, and patient.
Subscribe to keep up with our latest news
Thanks for your interest in our materials.
Please check your email. If you can't find the requested document, check your "Promotions" and "Spam" folders to make sure it didn't take the wrong turn.