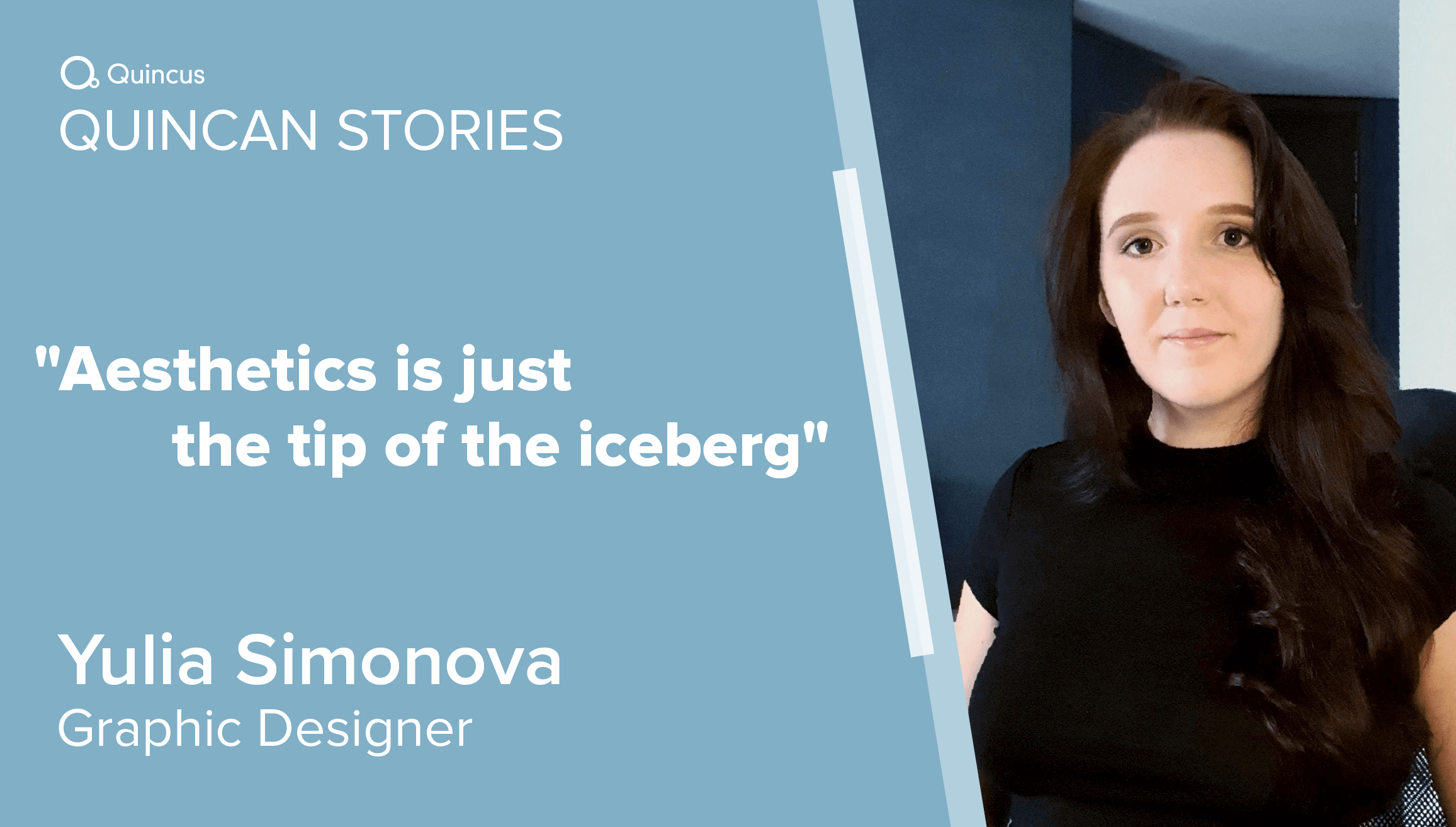 Yulia Simonova: Solving the puzzle of visual communication
Our Graphic Designer shares what it means to be a design professional in the world of logistics and how she tackles the challenge of translating data into compelling visuals.
You are Quincus's resident Graphic Designer. Tell us about your role and your day-to-day.
My average day mainly involves visual communication. I break down written messages and transform them into graphics, making them structured, transparent, and visually appealing.
The beauty of being in a startup is that it does not limit my work scope to design. Quincus allows me to try different hats, such as brainstorming for marketing strategies and meeting with potential customers.
Did you always want to be in the design field? Please share with us what led you to this profession.
My journey began in university, where my passion for writing led me to study journalism. After two years, I switched to graphic design as I no longer saw myself becoming a journalist. However, I still enjoyed working with information, so I went into visual communication.
I find visual communication compelling because it feels like solving a puzzle. You need to break information down into small bits, re-organize it, and make it work, which requires a lot of creativity. Every message I convey in visuals is different, and there are so many ways to do it.
Many think a graphic designer's work is just pretty pictures. Bust that myth for us.
Aesthetics is just the tip of the iceberg. It still matters a great deal because good visual design helps make a great first impression, and people perceive attractive things as more exciting and worthwhile. But an aesthetics-first design can hinder the user experience. A good designer should always put the message before the image and trim excess clutter.
Graphic design today is all about organizing and structuring information, establishing a clear hierarchy and order, and finding the right balance between meaning and delight.
Tell us how experience with the other aspects of your work, such as video and animation, has made you a better creative professional.
Video and animation are powerful tools because they connect with all the viewer's senses, making information easy to absorb and understand. Unlike reading, watching video is a passive experience and the most natural to our brain. That is why we all spend 5-7 hours per week consuming video content on social media. But explaining a 1000-word article or a complex technical process in a one-minute video is not easy.
A designer must think about everything: the pace at which the story unfolds, whether pauses are at strategic places, how music affects the mood, whether the voiceover is working well with the visuals, and if the motion graphics support the story. I even have to think about how the viewer's eyes move. For example, try to track the focus point, such as characters' faces or moving objects, in any movie. You will notice that the focus point does not jump around the screen as scenes change. The focus point moves gradually, so you are not moving your eyes from corner to corner, which is irritating and tiring.
The same principle applies to videos and animations. Using what I learned from working on these has helped me create impactful stories more efficiently by seeing things from the viewer's perspective.
Why did you join the logistics/supply chain field? In your opinion, what is attractive about this field for a graphic designer?
Logistics was technologically stagnant for a long time, creating the current rush to catch up. I find it very inspiring to be at this frontier. I believe every designer will find it interesting to work in a rapidly developing industry where something new is emerging every week.
Name some challenges you face as a graphic designer in Quincus and how you overcome them.
The main challenge that comes to mind is not Quincus-specific but industry-specific. Logistics is evolving rapidly, and companies do not want to be seen as boring anymore. Everyone is looking for something fresh and progressive, including in the design aspect. The trick is building a new, slick, technology-driven brand that is a step ahead of the industry without alienating the audience.
I am looking for ways to overcome this challenge every day. It is vital to keep an eye on what others do in that direction, not just in logistics but in other old and respected industries. Ideas can come from anywhere.
Tell us about a thing or two you have worked on that makes you proud.
I am proud of the infographics I create. Turning a big chunk of text into a visually captivating graphic is challenging, so putting it all together gives me great satisfaction. Of course, an infographic's success greatly depends on its content; half of it is in exciting statistics, facts, and figures. But turning otherwise colorless data into a powerful infographic can bring it to a whole new level.
How do you keep your design skills and your industry knowledge up to date?
I draw inspiration from the work of other designers. No designer can develop all the ideas, so I am always looking into what others are doing and learning from that to improve my skills.
As for industry knowledge, when I joined Quincus, I bought a book called Supply Chain Management for Dummies. It did not answer all my questions, but it gave me a basic understanding of logistics and supply chain, along with some new threads to pull on. I am still pulling and trying to learn something new every day. My motto is never to stop wondering and never stop asking questions.
What do you love most about working in Quincus?
At Quincus, you are always encouraged to speak. If you have an issue, you can ask for help or advice, and you will never be left to deal with it alone. You can share your perspective even if the subject under discussion is not in your area of expertise, and your opinion is always valued. All this helps you feel that you are a part of something big, not just a design associate.
Any advice for graphic designers going into the logistics field?
Don't fall for the misconception that logistics is boring. Logistics is going through a real technological revolution. Within years, self-piloting vehicles and drone deliveries will be the norm. How can anyone not be excited about that? The industry demands creative solutions and creative people.
Interested in working at Quincus?
Join us and unlock your full potential today!
Subscribe to keep up with our latest news
Thanks for your interest in our materials.
Please check your email. If you can't find the requested document, check your "Promotions" and "Spam" folders to make sure it didn't take the wrong turn.