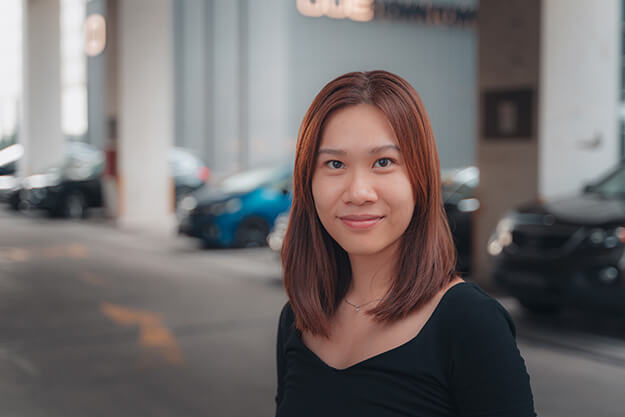 Bernita Teo: "I never feel like I'm waking up to go to work"
UI/UX designer, Bernita Teo, shares her passion in creating user-centric products and making an impact through design.
Tell us a bit about your background.
I started with a strong interest in interior design and arts. I was attracted to this industry because when I was little, I used to play with Polly Pockets: a miniature dollhouse that you could customise and design.
From interior design, I moved towards architecture and ended up taking my degree in that field. Through architecture, I was able to pursue my interest in people and how design directly influenced their behaviour. I was lucky to have received an opportunity to work with an SME that sold healthcare products. I learnt a lot about business management and marketing, which was an area I didn't have any prior knowledge or background in. This encouraged me to pursue my Master's in consumer analytics and marketing strategy.
I went back to work for the SME in healthcare, and after 2 years, I realised what was missing—the design aspect that I loved so much. That was when I decided to move into UX (user experience) and UI (user interface) design.
Could you tell us a bit about what is UI/UX design?
UI/UX design is much more than what people imagine. It goes beyond the visual aspect—it is a process in which you solve a problem. We take a product or project, strip it down to the bare minimum, and ask if there's a problem that we can solve. We find out what the issue is, coupled with business requirements, to reach a goal and meet the objectives.
All of this has to be done before we start drafting basic wireframes, and from there, we begin creating meaningful interfaces that are usable.
User experience is a process that means different things to different people. From the customer's perspective, it is an emotional and functional response. For the designer, it is a 5-phase design thinking process (empathise, define, ideate, prototype, and test). Finally, from a business perspective, it is a business strategy.
Something to keep in mind while working on UI is who the target audience is—who are you designing this for? It has to be easy to use, and we have to ensure users actually use the product. We want to have an engaging interface where users will stay interested.
It is also important to keep in mind those who might be colour blind, or who might have visual impairments. We ask ourselves if they are still able to navigate and enjoy the interface.
Can you elaborate on what a wireframe is?
There are 3 main types of wireframe, lo-fidelity, mid-fidelity and high-fidelity. This depends on the amount of detail shown. It ranges from a single black and white sketch to a full-fledge coloured frame. But essentially, wireframes carry information such as the layout of the design, colour and other information that is necessary to communicate the design.
You had a completely different background before joining Quincus. What made you go for UI/UX design?
I went for UI/UX Design because it is a perfect blend of business and design. I am interested in design, data analytics and visualisation, and business—UI/UX encapsulates all of these areas very well. I can design for users, which is an aspect I love. I am also able to think about the business aspect by breaking down complex business processes and making it easy for users to understand.
UX is a new term for an established industry. It is a branch out from graphic and web design. Previously, you needed a coding background as it was more focused on development. However, now you can go into UI/UX without having a coding background. That is due to the various tools and programmes available, such as Figma, Sketch, and XD which are easy to pick up.
Are you planning to learn any coding or development skills?
I would love to learn to code, because then I can know and relate to what runs in the developers' heads. I could then help and contribute ideas and different workarounds to the team and the product. I can also relay my ideas clearly and avoid miscommunication.
How is it like switching your career and starting your UI/UX journey in Quincus?
My first job in UI/UX is with Quincus. I am taking in as much information as I can and learning as quickly as I can. Currently, I am being mentored by Raja, the Senior UX Designer at Quincus.
I have no regrets in my career switch to UX/UI. It is something that I knew I was getting into and first heard about when I was studying architecture. I had a strong sense of direction and knew I wanted to pursue this.
So far, I am enjoying my time working at Quincus. I love the team and the people I work with. The best thing is, I never feel like I am waking up to go to work.
Subscribe to keep up with our latest news
Thanks for your interest in our materials.
Please check your email. If you can't find the requested document, check your "Promotions" and "Spam" folders to make sure it didn't take the wrong turn.