15 December 2021
Bloomberg: The Supply-Chain Logjam of Holiday Gifts Weighs In at $65 Billion
The supply crunch that's helped drive inflation higher is still getting worse in the U.K.
That's among the key takeaways from Bloomberg Economics' latest set of supply indicators. Measures for Britain's factory prices, inventory and job vacancies all show shortages becoming more severe. The impact of the pandemic has been exacerbated by something that's unique to the U.K.: trade frictions after the country's exit from the European Union.
Now the economic fallout is widening. Figures released Wednesday showed U.K. consumer prices rose 5.1% from a year earlier, the most since September 2011, boosted by the cost of clothing, auto fuel and second hand cars. Core inflation, which strips out energy and other volatile items, climbed to 4%, the highest since 1992.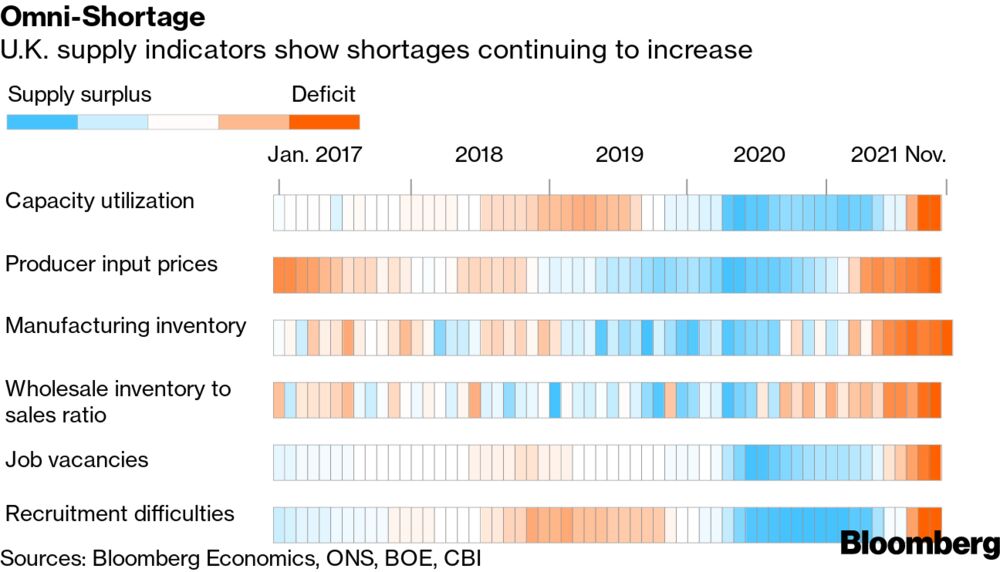 In the U.S. and euro area, Bloomberg Economics' measures of supply strains declined in November, while remaining at a historically elevated level. Another gauge of the supply imbalances — the number of container ships queuing up to enter the ports of Los Angeles and Long Beach — recently topped 100 to hit another record.
So just how much trade is tangled up in the world's holiday supply chain? New research from Quincus, a Singapore-based provider of supply-chain technology, and the Centre for Economics and Business Research in London put the figure at $65 billion worth of clothing, toys and consumer electronics.
Sounds like a lot, but it's down slightly from a year ago. Consumer electronics were estimated at $30.6 billion was up 2.3% from a year ago, clothing worth $33 billion fell 2.1% and toys valued at $1.4 billion declined 2.7%, according to Quincus and CEBR.
"The fact that we are not seeing the increase that we would expect from last year's data indicates that the global supply chain logjam is having a cooling effect on the world economy at a crucial time," says Katherina Lacey, a Quincus co-founder and chief product officer.
Nina Skero, CEBR's chief executive, adds that "as the global economic recovery continues, supply chains are expected to face additional pressure as businesses attempt to satisfy increasing demand levels."
Subscribe to keep up with our latest news
Thanks for your interest in our materials.
Please check your email. If you can't find the requested document, check your "Promotions" and "Spam" folders to make sure it didn't take the wrong turn.