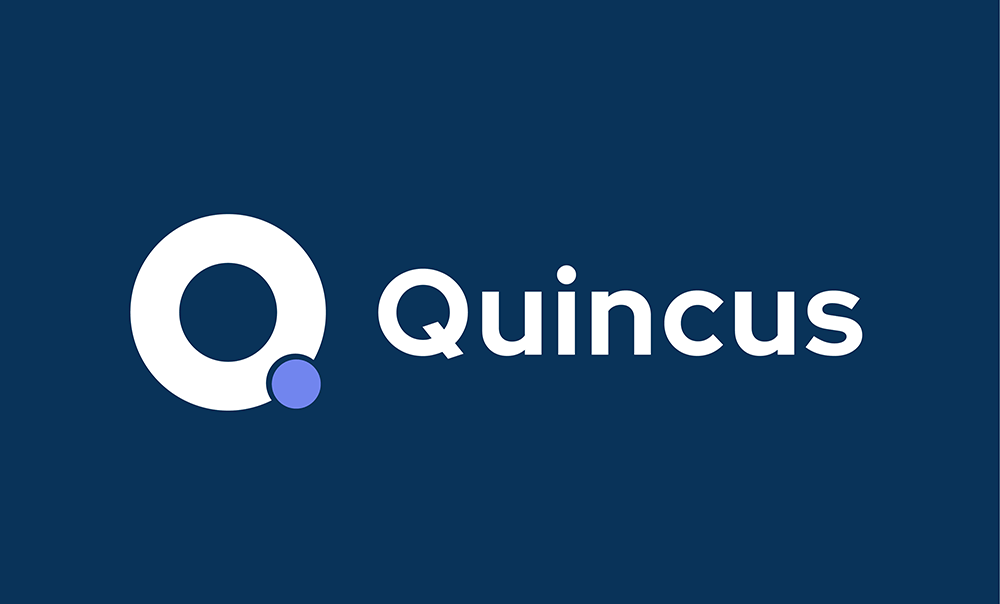 Quincan year-end reflections
2020 has been full of growth for us despite many unexpected circumstances. Our team opens up on their personal experiences.
Katherina Lacey, Chief Product Officer & Co-Founder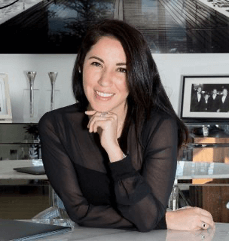 The pandemic this year has forced many to take the step into digitalization. Previously, many of our customers did not know that digitalization is necessary—in fact, we have to educate and nurture them into trusting the process and technology.
This year has been tough working from home: waking up, working, passing the time in the same place, wondering if your dog will start barking, family members will walk in, or your kids will demand playtime. We all shared moments where we had to mute during a presentation during drilling or loud noises in the background. It wasn't easy, but we grew and became more efficient and creative in our way of communicating.
The product has evolved from where we started. Each of us here in Quincus has played a huge role in creating smarter and well-thought-out products. We learnt from our failures, but it was an opportunity—it was a chance to reevaluate and come back even stronger with better reasoning.
As we move towards our goals, we will continue to follow the African concept of ubuntu—"I am because of who you are" through our activities such as Hackathons, workshops, and discussions as a team and as a family.
Jonathan Savoir, CEO & Co-Founder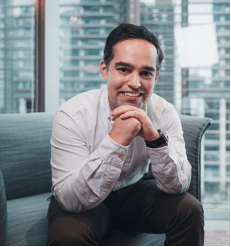 The supply chain scene has seen a lot of changes this year. As a result of the pandemic, demands for some products and services have skyrocketed while others plummeted.
Innovations in supply chain technologies move at increasingly faster rates which have made Quincus to step up to the challenge. Throughout the year, we have been helping more and more customers to accelerate and navigate through this next phase.
That is why we do this—we have always wanted to help customers deliver better and make businesses more resilient. However, we also know that our technology alone cannot achieve this. That is why we made our technology open and communicable with others.
Let us continue being part of this technological change in the supply chain industry. See you next year everyone!
Olivier Adam, Chief Revenue Officer (Commercial Team)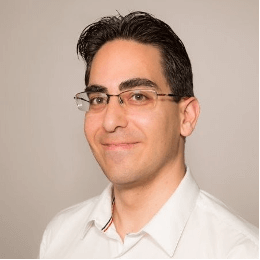 Even in regular times, a year is a long time that sees lots of changes for us. No one could have predicted that 2020 would be exceptional (both good and bad) in terms of changes. These changes will profoundly affect society for the long term—accelerating 5-10 times the pace of some trends, such as e-commerce and remote working.
The world of logistics has been supporting the growth of e-commerce by allowing simple, low-cost, and quick delivery of goods worldwide. Yet, logistics is an ancient industry compared to e-commerce, and it has only slowly been evolving due to a series of factors. The 2020 crisis brought a clear wake-up call: logistics companies cannot continue with marginal improvements if they want to survive. We have seen this clearly in the past few months. Many of the largest logistics players in the world engaging in discussions with Quincus on how we can help them tackle this massive growth in terms of volume and complexity.
The second change mentioned is that of remote working. Even though it also has an impact on logistics, it has a more drastic effect on us as an organization. The best performing teams are the ones that are cohesive and communicate regularly with each other, but doing so mainly remotely is a new level of challenge. Only time will tell how this impacts organizations over the long run, but it is clear that the Quincus team has rapidly adapted and even leveraged this new way of working.
Nonetheless, I wish all of us a very healthy and prosperous (both in business and in our personal lives) 2021, and, conditions permitting, I'm very hopeful to meet the other team members in person in the coming months.
Elke Sabrina, Account Manager (Commercial Team)
2020 was full of battles and has been an even tough year for most of us. But today, I would like to shine a light on the positives in Quincus and all around us.
As someone working in business development, I have come across many interesting facts while working on the ground. I have worked with customers who experienced new conditions and challenges. From this, I learned a lot about other business process and how to handle new situations.
Over the pandemic, I came up with several activities that I can do at home for free or at low cost to focus on reducing mental stress and making my quarantine days more bearable. I learned to cook new recipes, especially my favourite menu from a local restaurant that temporarily closed. I have also been working out at home two times per day. I am doing Pound Fit, Cardio Dance, and other online cardio sessions. And lastly, I have been spending most of my time with my family. We spend time cleaning up our lovely home.
Besides this, I feel fortunate to be working in an environment like Quincus. My fellow Quincans respect diversity by celebrating each country's cultural and religious activities, even in long-distance circumstances.
Many thanks to those I've worked with and have been supporting me. I'm looking forward to 2021!
Muhammad Ali Arafat, Director of Business Development – Indonesia (Commercial Team)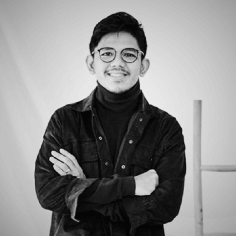 2020 has been an unpredictable year. I will remember it as the year I joined Quincus and when the pandemic spread to Indonesia. All the customers' offices were closed, and everyone worked from home. As a business, we didn't close. We have been available with remote communication, both internal and external, to support our customers.
Our commercial team continues to work with customers remotely, and we came together to support each other during the pandemic. We believe we have to work together to provide solutions and support to our customers. As the lockdown prolonged in Indonesia, we are more focused on giving consultations remotely. As a result, the customers are happy that we support them during a tough situation.
As many Quincans are working from different countries, we also began hosting virtual coffee breaks once a week during lunchtime to discuss with the Indonesian commercial team. We're proud to have a diverse team and support each other to maintain an inclusive work environment.
I welcome 2021 with open arms. We hope everything will be much better for Quincus, and we are growing together.
Romain Blanchon, Project Manager (Delivery Team)
2020 was an incredible learning journey for me. From technology management to the industry best practices, I feel like I received all the latest features and upgrades in my personal Operating System!
I was very lucky to experience the early days where we were all multi-tasking. Besides engaging with my sales colleagues, I got to work closely with our engineers, product and project managers, and co-founders. It gave me the opportunity to see the big picture of what Quincus is building.
The team has evolved into a structure that helps work better and focus on delivering value, both the individual and collective level. However, the start-up spirit is still there, thanks to a lean and transparent organization that creates openness and builds trust.
2021 will be the year of the delivery for Quincus where all that was built will come to life—and go live!
Firas Khayat, Director of Business Development – UAE (Commercial Team)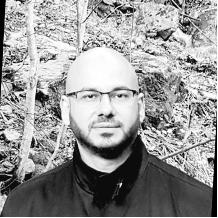 The following paragraph outlines the positive aspects and experiences that I have observed since joining the company just a few months ago.
Primarily, I believe the organization of Quincus is well structured and collaborative amongst employees and stakeholders. I like that the leadership team is firm and assertive. In my opinion, the company will progress to the next level and expand geographically in the coming years.
The second aspect I have observed is the cooperative and strong support system present within the top management. I enjoy the collaborative efforts of all the employees and the CEO's affirmation and strong bond within the company. I love that Quincus's culture is diverse and inclusive of all individuals.
In 2021, I envision the year to be the forefront of great improvement in the development of our products as well as new market penetration.
Saibal Gupta, POC Manager (Commercial Team)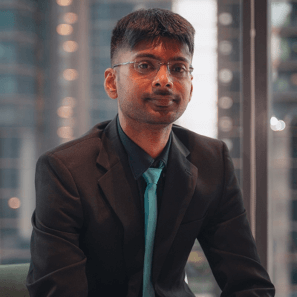 The world is a much different place today than it was a year ago. There are a lot of positive trends that have emerged as the economies reopen, such as the acceleration of the growth of technology.
As someone who works with customers within the commercial team, I have seen companies emerging more agile and resilient. In some industries, firms have set greater goals in the coming years.
At Quincus, we are following processes which promote the safety of our employees and communities with social distancing guidelines. As an organization, we have made great efforts to ensure that the individuals always remain connected across different teams and time zones virtually.
Many thanks to my awesome colleagues for having supported me. Best wishes to everyone as we move to a new year. Cheers!
Muhammad Qayyum Bin Halele, Project Support Specialist (Commercial Team)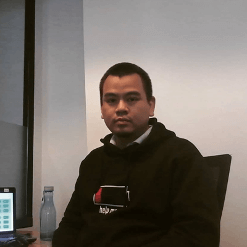 We'll be leaving 2020 soon. No doubt it has been a challenging year. However, the main thing that impacted me this year is seeing the resourcefulness of people in coping with those challenges. Technology has been a major enabler for all of us to cope.
Having the opportunity to work at Quincus allows me to help people apply useful technology effectively to stay connected with each other and complete the supply-and-demand chain. I can also help others get what is not available in their immediate vicinity.
I previously worked in the private education sector, which was among the first ones that were majorly impacted by the pandemic. It was then that I received the opportunity to join Quincus and was given a warm welcome by the team. Despite being the sole representative in Malaysia, I can still feel the presence of the organization from all the activities organized by the Quincans. I certainly value the trust given by my managers and colleagues in having me manage and deliver my tasks.
I am looking forward to facing the challenges 2021 brings with the other Quincans!
Nessa Arif, Business Development Associate (Commercial Team)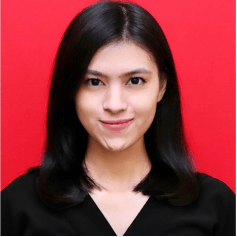 This year has reminded me that tomorrow is not promised. We cannot predict what the future holds. There is nothing I can write that can describe how 2020 has affected us as many of us also feel that this is one of toughest year there is. However, this year has also given us many lessons. Difficult times give us the real face of life and people.
As a business developer, I engage with clients every day. Maintaining relationships with customers is crucial to us. We used to get in touch or get to know our potential customers in person. However, this pandemic has forced us to do everything online, including build connections with a strong social media presence. A strong online presence helps you in the long run.
Luckily, I work in a company that cares about its employees' development. Not so long ago, we just finished our training classes with one of the top sales trainers. We learned how to deal with customers, understand customers' needs, work with customers, talk to customers, and also approach customers through social media presence.
One of the biggest things I have learned from this year is that you cannot take things for granted, and always to be grateful for every positive thing that happens in life. I am very grateful that I work at a company that cares about my career development. I am sure that many exciting things lay ahead in 2021!
Satyam Dubey, SCRUM Master (Engineering Team)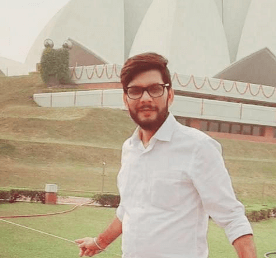 This year started with a lot of excitement. Then, COVID-19 came and changed the way we did things. Here is my reflection of the amazing outcomes of this year:
My team and I managed to make virtual communication work, even though managing the team remotely was difficult. As someone who works in project management and as a scrum master, communication is the key.
Thanks to the hard work and support of everyone, we ran POCs successfully, done successful deployment, and onboarded new clients during the COVID-19 period. This was possible as we were determined to make things work and give better outcomes than before.
Additionally, we also managed to grow the team virtually. Onboarding remotely was tough, but our People and Talent team worked hard to make it happen and give our newcomers good experiences.
Even though many of the engineers in my team joined during this pandemic, we never feel like we have not met each other. This is because we have created a very cordial culture. We accept people in our organization with open arms. The People and Talent team at Quincus did an amazing job—they made a lot of engaging activities, such as Q-Learning, Q-Games, and Friday Fun where everyone from Quincus family joins from different countries and enjoy the time together.
I would like to thank everyone in the Quincus family and my squads as we have been a solid unit during this pandemic. Special thanks to leadership team and founders who have been guiding us throughout the year.
I wish everyone a lot of happiness in 2021!!
Phong Nguyen, Director of Business Development – Vietnam (Commercial Team)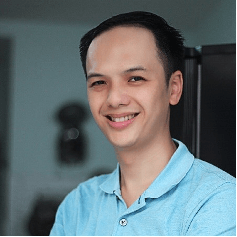 As we end this turbulent year, I'd also like to highlight many positive things that came out of it. First of all, businesses are resilient.
As someone who works in business development in the Vietnamese market, I get to work with many clients. They faced a lot of challenges this year, but they have been determined to achieve greater goals and innovate.
Secondly, communication is ever-changing. As social distancing continues, we also have been rethinking the way we keep up with our presence and support safely. That being said, we—our Quincus team—has made a great effort to keep the team together and stay supportive.
Many thanks to those I've worked with and have been supporting me. I'm looking forward to 2021!
Vishal Kumar, Software Engineer II – Python (Engineering Team)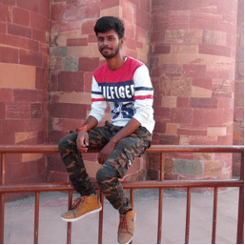 As this year comes to an end, we're filled with excitement in us that only seems to come at this time of year. Many things happened. There were many ups and downs during this season, but here's my takeaway:
Our team has been growing. This makes it more manageable for us to handle the workload and deliver things better. As an engineer and a developer, having new people on the team makes the environment more creative. Each person has their own ideas and brings in new perspectives, which enhances the current environment and structure. This improves the quality and feature of the current system.
Secondly and most important: everyone in Quincus is still working from home, but the culture still has not changed. Everyone is still communicating and supporting each other, like how they did before the pandemic. Each Quincan maintained online communication while keeping safety as a priority. The Quincus team has made a great effort to keep the team together and stay supportive.
I would like to thank everyone whom I worked with for all the support throughout the year, and I hope that you will continue doing so in the year to come!
I'm excited to start a new chapter this coming year!
Subscribe to keep up with our latest news
Thanks for your interest in our materials.
Please check your email. If you can't find the requested document, check your "Promotions" and "Spam" folders to make sure it didn't take the wrong turn.